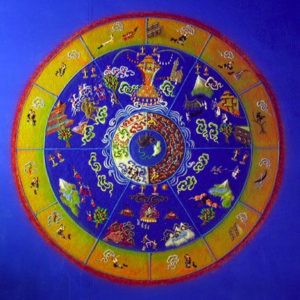 We can ask ourselves, is what is going on for me right now going to matter in a hundred years?  The answer is likely, no.
However, what does matter in a hundred years is how we respond to what is occurring now. We create our Destiny. This is of course if one believes in evolution, cause and effect (karma) and reincarnation. If there is no belief in these concepts then perhaps it doesn't matter except for our immediate experience.
Our immediate experience is important though. Cause and effect are always at play whether you believe in a long-term consequence or not. So, whether you feel what is occurring now will matter in a hundred years isn't relevant. What is, is what you can do in the moment to create a better response that brings you peace instead of suffering.
If we consider that when we ask ourselves will this matter in a hundred years, we can step back from what is occurring and realize we are likely making something more important than it really is. In the larger picture of our existence, is this thing that is occurring paramount to my existence. Or is it simply an experience from which I can learn and grow?
May We All Walk in Beauty